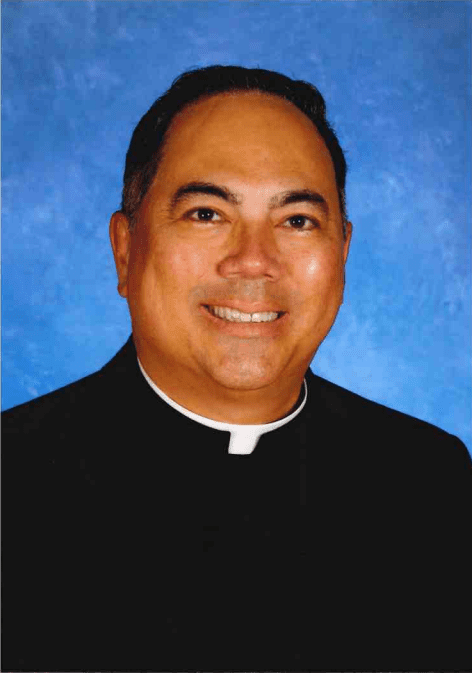 Father Jorge Rodríguez de LaViuda
Pastor
Was born in Lima, Peru, April 11, 1963. He is the second of 4 brothers. His parents: Jorge O. Rodriguez de la Viuda (died in 2007) and Mela Chang, currently 93 years old. Studied at the Claretiano School of Lima and graduated from the University of San Martin with a degree in Hospitality Management. A profession in which he served in Lima and in 1989 in Florida, USA, until he entered the seminary, Saint John Vianney in 1993.
He studied Theology at St. Vincent de Paul of Boynton Beach and graduated with a master's degree in Divinity. Was ordained priest in 2001 for the Archdiocese of Miami. Was a Parochial Vicar in the churches of Santa Rosa de Lima, Miami Shores; Good Shepherd, Kendall, and Pastor of Our Lady Queen of Martyrs, Ft. Lauderdale and in Saint Timothy, Miami.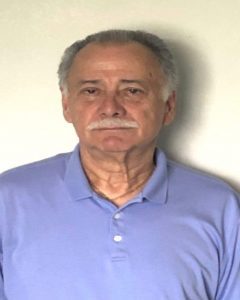 Deacon Armando Martinez
Deacon
Deacon Armando Martínez, born in Puerto Rico and ordained as Deacon in 1996 by Bishop Arthur O'Neal in the Dioceses of Rockford, IL. The Lord called him to serve as a Deacon in St. Joseph Church in Elgin, IL. Serving the Church in a variety of ways, depending on its needs. His functions where: Baptismal formation, for parents and godparents. RCIA for adults from 18 years of age. Marriage couple's counseling. Funeral Service at church and at the cemetery. Serving in Mass and assist my Pastor on the homilies during mass. Ministries formations for parishioners. In (2017) moved to Sunrise, FL. Now, he is serving as a Deacon in St. Bernard Catholic Church, from the Archdioceses of Miami, FL.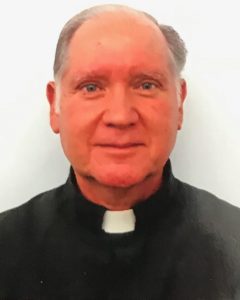 Deacon Humberto Reyes
Deacon
Born on November 2, 1944, in La Habana Cuba, and baptized on April 6, 1945, at Nuestra Señora de la Caridad Church.   In 1954 received the Sacraments of First Communion and Confirmation from Cardinal Arteaga at Colegio de La Salle de Vedado.   From 1954 through 1961 studied at a Jesuit School in La Habana, where he was a catechist.
Left Cuba in February 1961 because of the political situation and started a new life in Mexico City, where he lived for 20 years. Here, he finished High School and studied mechanical engineering at the Universidad Politécnica Nacional.  In 1969 married Ana M. Guzman & had two children, Ana Graciela born in 1970 and Humberto Mario, born in 1981. Participated in various religious groups like the Opus Dei, Catholic youth groups, and gave catechism at Valle de Mezquital.
In 1981 moved to Tampa, FL, here attended Incarnation Parish and was an active member of the marriage council group of Camino al Matrimonio.  
During 1984, because of a job opportunity, moved to San Juan, Puerto Rico and lived there until 2017.  In 1988 was accepted to be part of the Permanent Deacon Program and received the orders of acolyte and reader of the Word of God in 1991, and on February 28, 1992, was ordained as Permanent Deacon by Cardinal Luis Aponte Martinez, Archbishop of San Juan, Puerto Rico.  Here, he served in the Parish Nuestra Senora del Carmen in Carolina PR, gave catechism classes for adults, as well as helping develop and build the Parish School.
Afterward, as Deacon, served in the Parish San Pedro Martir of Verona in Guaynabo PR. Was in charge of the altar servers, and the Troop 240 of Boys Scouts of America like Parish representative, and in charge of the religious growth of the Troop.  Also helped and guide praying groups and the Juan XXIII movement, and took part in organizing the Parish census. During 5 years, was president of the Permanent Deacons of the Guaynabo Vicarage. In many occasions, represented the Parish in public ceremonies. Also did the regular activities as Deacon like baptism, weddings, funerals, communions to the sick, preaching and communion service ceremony in the Parish and in the School.
Since March 2018, is an active Permanent Deacon in the Archdioceses of Miami, at the St. Bernard Parish in Sunrise, serving mainly the Hispanic community's ministries, serving and preaching in Masses, communions to the sick, baptisms, and funerals.